Gen. Flaviano P. Olivares:
An Officer and a Gentleman
By Cecile G. Garcia
Mr & Ms Magazine July 6, 1999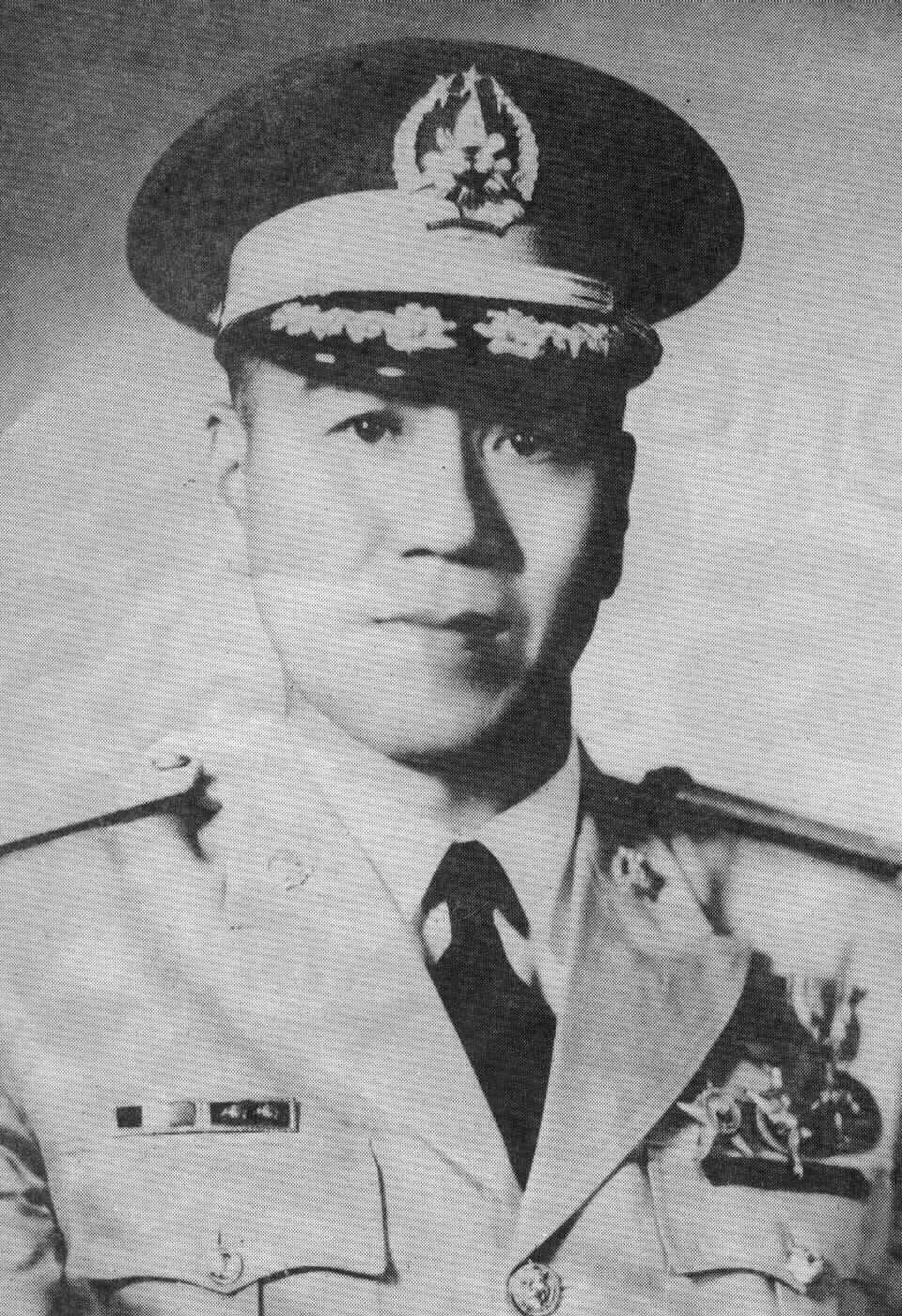 The late general believed in the immediacy of life. He was not one to tarry delay or postpone. Remaining true to this principle to the very end, when his time was up, he went quietly and quickly.

"I wish I had inherited the trait, says his daughter Ma. Tomasita (Mitos) who recalls that when they were very young, their father had a poster which said "Procrastination is the enemy of success".

A disciplinarian in every respect, Flaviano Ponce Olivares was born on July 4,1911 in San Pedro, Laguna. His father, Marcos Olivares, was a rail-road station manager, while his mother, Venancia Ponce, stayed home to take care of her husband and three offspring, the oldest of whom was Flaviano. (His lonesurviving sibling Vicente lives in San Pedro. Their sister Josefa died last year.)

There was one major conflict between Flaviano and his father The elder Olivares was reluctant to send his son to school because he wanted him to be a farmer but apparently the young boy had bigger dreams. In seeming defiance he left home to work his way through school, taking up agriculture at the University of the Philippines Los Baños (UPLB) where he found an ally in Prof. Francisco Foronda. He stayed with the Forondas throughout his student days. Olivares' military career began at UP where he became ROTC cadet corps commander. What proved memorable, however, was his stint as tactical officer of the ROTC at the University of Sto. Tomas. Here, he met the winsome Beatriz dela Cruz who was then a Home Economics student. They were married the following year in 1938. The union bore five children: Ma. Teresa, Ma. Flabeth, Ma. Tomasita, Ma. Beatriz and Maximo.

"Daddy got his star in 1961," recounts Ma. Flabeth (Beth). It was a long arduous climb for her father who believed that nothing worthwhile came easy. "When he became general, his hometown, San Pedro honored him for being Laguna's first. There was a motorcade and people lined the streets. Everybody welcomed daddy."

No doubt he had earned his laurels.

A mere third lieutenant in his early days with the military, Olivares was with the USAFFE guerillas in Mindanao during the war. His wife did not see him or hear from him for three years. Having been ill with meningitis due to malaria he was skin and bones when he finally returned to Manila.

The post-war era found Olivares steeped in foreign military schooling - in Fort Benning, Georgia from 1947 to '48 and in Fort Leavenworth, Kansas from 1951 to '52. Much later, in 1972, he was given a place in Fort Leavenworth's Hall of Fame, one of the few Filipinos to be accorded the distinction.

As general, Olivares first assignment was that of commander of the 2nd PC Zone in Canlubang, Laguna, after which he became commanding general of the Tabak Division in Laur, Nueva Ecija.

"Daddy was often away, says Flabeth. "Because he did not want to interrupt our studies, he allowed us to visit him only on weekends and holidays." But he was always making up for lost time. says Mitos. "He was very thoughtful. From him I learned the practice of bringing pasalubongs. Dad was also very appreciative. When we were first learning how to cook or whenever he found us looking good, he would praise us to high heavens."

Their father, the sisters say, was soft-spoken and gentle, a man of few words. A single utterance from him could either elate or shatter and eradicate them completely. Mitos recalls one incident when she must have angered him. "He did not raise his voice. Clumsy was all he said to me." That single chilling word was enough to cut her to pieces. She cried for days.

Despite Olivares' intermittent absences from his wife and children, he remained close and strongly bonded to them. Even now with their parents gone the Olivares sisters and only brother respective spouses, in-laws and extended families are remarkably closed-knit.

It's a gift, they often say, given them by loving parents. All are married by the way, except for Mitos who has opted for a banking career. Flabeth is wed to lawyer Delano Valera; Teresa to Ding Cueto, an engineer and Beatriz resides in Detroit with her doctor husband Freddie San Juan. The youngest, Maxie, is separated. The elder Olivares couple lived long enough to to enjoy several grandchildren and great grandchildren.

The crowning glory of Olivares' career was his appointment as PC Chief in 1965. (He was deputy chief of Staff prior to his promotion.) Foremost with Daddy was' loyalty to the service and to his commander-in-chief," volunteers Flabeth. "Dad was honest and upright, he did his homework." Position and power did not turn his head and failed to corrupt him. "He remained a simple man," says his second born.. "Daddy did not like grandstanding. He preferred to stay in the ground."

Though he could have enriched himself in office, he chose to keep the low-key, humble lifestyle he had always known. Even when he could have built a more elegant home for his family, he opted to keep the old one in Sampaloc which his wife acquired while he was in Fort Benning. The unimposing structure is still there, lived in by Maxie and his children. The general spent the last years of his life in the home of daughter Flabeth and her family.

At any rate, a turning point for the general was his retirement from the service in 1966. But retiring in the real sense was farthest from his mind. He was merely shifting gears.

Hence, life became easier, more laid-back. As security consultant of the Associated Bank (a job he held for ten years), Olivares had more time for his wife and children, most of whom were I now married with families of their own. There was more time too for tennis, a lifetime passion. The general was a fitness buff, by the way. Exercise and a healthy diet were part of his regimen. Perhaps owing to that, he was able to survive a number of illnesses, including colonic cancer. And due to a heart condition, for a long time - until he died in fact - he had a pacemaker which he wore like a second skin.

When he left the bank, Olivares was hired as general manager and later on president of the Sentinel Watch-man and Protective Agency, Inc. which is owned by the Manotoks. According to Flabeth, two years before his death - he was then chairman of the board - - in his altruistic fashion, he asked that his honorarium be cut in half so that he could share the other half with the officers and staff of Sentinel.

Tragedy struck when his wife Betty died unexpectedly in March 1989, leaving him despondent and inconsolable. They had celebrated their golden wedding anniversary only a few months before, on October 29,1988. Besides renewing the marriage vows, their children and grandchildren had painstakingly organized a lovely party at the Manila Hilton (now Holiday Inn).

Perhaps out of loneliness, Olivares remarried. But the union was brief and he was widowed once again.

After that short episode, he be came intensely close to his children and their respective families. The remaining years he spent with them were abundant with love, caring and utter devotion.

Says Flabeth: "Daddy was an ideal husband, an ideal father. He spoiled Mommy. But there was respect. She knew he was the boss. He spoiled us in the sense that he was not stingy with love and all expressions of it. He used to kiss and hug us. He pampered us with his love." Elder sister Teresa adds: "He used to lift us, carry us off on our birthdays. He never stopped doing that though we were all grown, and too big to carry. We'll always miss Daddy and the way he showed us how much he loved us."

"Daddy did not play favorites." allows Mitos. "He was very fair. He was a military man of the old school and a wonderful husband and father. He imposed discipline, but he was kind. Daddy encouraged us to be at our best all the time. I remember how he would question us on current events, usually over dinner. When I was small, I had to memorize the multiplication table because he used to surprise me with multiplication drills."

When they were younger, according to the sisters, they thought married couples did not fight. Their parents certainly did not. "As we got older," says Mitos, "we realized they did fight after all. But they were careful so that we would not see or hear them fighting or arguing."

"Daddy was very humble," Flabeth picks up. "Sometimes we would give him the silent treatment. It was always he who gave in and tried to win us back."

"He never interfered with our choices," declares Teresa. "He gave us the freedom to choose our own partners and gladly accepted them. He respected us and our decisions." Their father, she says inevitably endeared himself to all his in-laws.

In his last years, the general became increasingly more frugal with himself and more generous with others. Frugality, Flabeth points out, was a hallmark of their father's lifestyle. "He simply refused to buy new things. He wore the same white suit to the weddings of his three daughters and his and Mommy's silver wedding anniversary."

And yet - he could never turn a deaf ear to anyone in need.

As well, he loves squandering his winnings in mah-jong on pasalubongs (usually food) for his grandchildren and the household helpers. The general, incidentally, enjoyed playing low stakes mah-jong every afternoon at his cousin's place.

Granddaughter Stephanie, Flabeth's child, was a direct beneficiary of his big-heartedness Her grandfather doted on young Stefanie. especially in the final years. "I got to know him when he was past 80. I wish I could have known him sooner," says Stefanie. "I remember quite clearly that when I was in the States with my parents, her grandfather sent me a birthday card, and I was only three years old. He treated me like a real person, an individual. Once, when I did not come down for four days because I was sick, he went up to check on me, even though he could hardly manage the stairs because he was weak."

He inspires her, confides Stephanie, particularly now that she's also in government service (she's with the Dept.of Foreign Affairs). "He was never rich and I like him that way." She has one regret: "When he died, it happened so fast that I was not able to spend more time with him. There were so many things I wanted to tell him."

In 1998, Olivares was honored posthumously by the UP Vanguard by elevating him to its Hall of Fame. His children accepted the honor in his behalf.

Shortly before his death, the general attempted to write his autobiography. In the opening lines he noted that he was finally making a record of his "simple life."

That life ended on Dec.23. 1997. He died of aneurism of the abdominal aorta. He was 86

Towards the end, the general did not tarry or linger Instead, he moved on swiftly, as though he did not have a moment to spare.

Walang Kopyahan
©2000 Bayani.com
Ang mga laman dito ay padala o may pahintulot ng may gawa o may-ari. Bawal ang mangopya ng walang pahintulot.